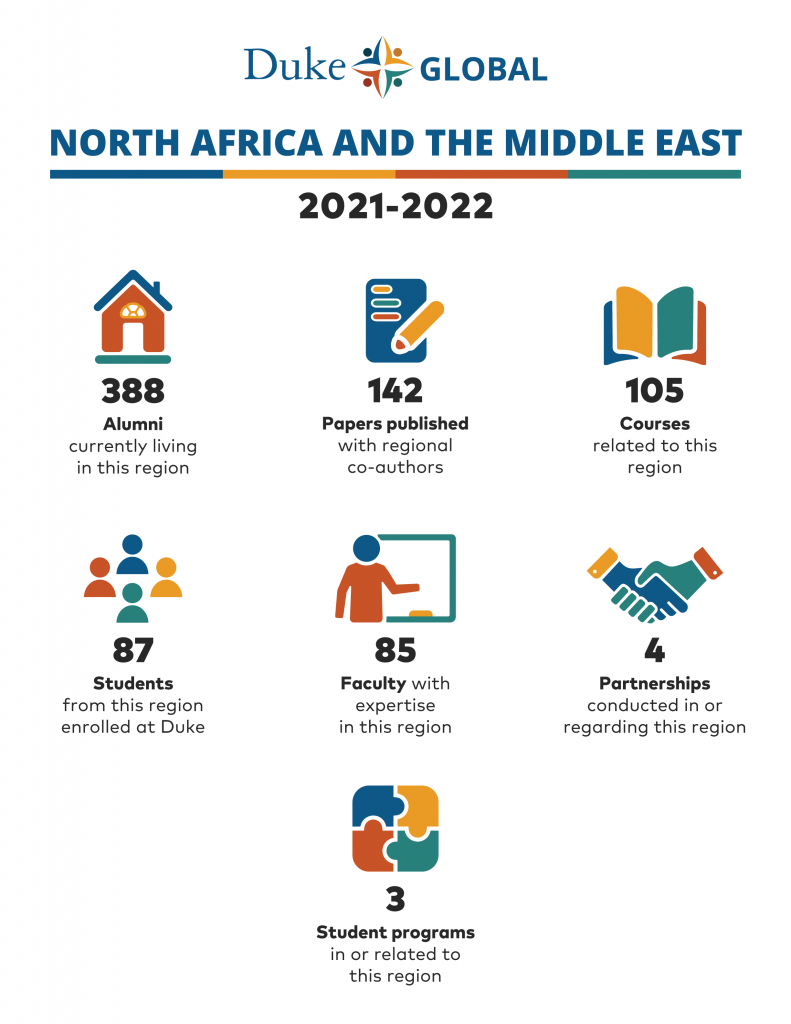 student Profile
Decided to apply to Duke after meeting DukeEngage students in Lebanon during summer 2017
Location

Lebanon
Duke In The World
Duke is home to literary critics, archaeologists, historians, diplomats and hundreds of others whose studies and research topics related to North Africa and the Middle East range from Islamic feminism to representational politics to the modernization of the Middle East.
Education Through Partnership
Duke's partners in the Middle East and North Africa come from universities, research institutes and other organizations across the region. Current partnerships explore research collaborations and academic exchange opportunities focusing on law, business and management studies and other academic disciplines.
The Duke Law School partners with Tel Aviv University to provide Duke students with an opportunity to study in Israel and to gain exposure to the Israeli culture and legal environment. In this program, students connect with peers from Israel and around the world. Law courses at Tel Aviv University cover everything from comparative U.S. and Israeli law to international law. Students from Tel Aviv University also study at Duke each fall semester.
The Fuqua School of Business collaborates with Koç University Graduate School of Business in Istanbul, Turkey for a semester-long graduate student exchange program. A shared commitment to training global leaders who create value for society makes Koç and Duke University fitting partners for student exchange.
In addition to working with partners in the region, Duke collaborates with nearby University of North Carolina-Chapel Hill for the North Carolina Consortium for Middle East Studies. The consortium encourages collaboration and cooperation in all aspects of Middle Eastern studies across the two campuses, provides research and training opportunities for faculty and students, and stimulates institutional and public awareness of the importance and richness of Middle Eastern people and cultures.
DukeEngage Oman improves the employability and life skills and boosting participation in quality learning opportunities among Omani youth, in partnership with Outward Bound Oman.
Research
Duke faculty members conduct research in or related to 16 North African and Middle Eastern countries. This research spans eight of Duke's ten schools and many of its institutes and centers. Graduate and undergraduate students are also involved in research in the region. Students involved with the Kenan Institute for Ethics have taken part in ongoing fieldwork in Nepal and Egypt on displacement issues and the well-being of refugees. As part of this research, students work with local NGOs, including the Azraq Catch-Up School for refugees and the Mercy Corps humanitarian organization in Jordan.