Indigenous Consent: Essential for Climate Action
Visiting lecturer Dr. Kyle Powys Whyte explains why Indigenous consent is essential to developing effective and equitable solutions to the climate crisis.
-By Chuck Givens
November 7, 2023
As part of the Duke Office of Undergraduate's "University Courses" program, the philosopher and climate activist Dr. Kyle Powys Whyte gave a lecture on the significance of Indigenous consent in climate action. Dr. Whyte, a distinguished faculty member at the University of Michigan, shared insights from his recent work in indigenous conservation, climate justice, environmental policy and international initiatives related to indigenous rights and diplomacy as they relate to the environment, climate and science. The lecture provided practical examples of why indigenous consent is crucial in climate change mitigation.
Dr. Whyte defined Indigenous consent as "the full control and self-determination of Indigenous people." Whyte suggests that consent means that Indigenous communities must have the power to make decisions about projects that affect their lands, and it is more than simply giving them a voice. It means tapping into and linking up with indigenous cultures, practices and identity. Indigenous groups' unique understanding of the land and its resources can and should play a pivotal role in shaping effective climate solutions.
"MANY MORE PEOPLE ARE INCREASINGLY WANTING TO HALT ADDICTION TO FOSSIL FUELS. I'VE NOT SEEN A SIMILAR EFFORT TO HALT THE ADDICTION TO CONSENT VIOLATION."
Dr. Whyte explained that indigenous consent is not only a fundamental right—it is enshrined in international law, including the United Nations Declaration on the Rights of Indigenous Peoples. He argued that respecting indigenous consent does not hinder climate mitigation but is, in fact, an essential component of it. Indigenous communities are already at the forefront of creating sustainable and climate-resilient solutions.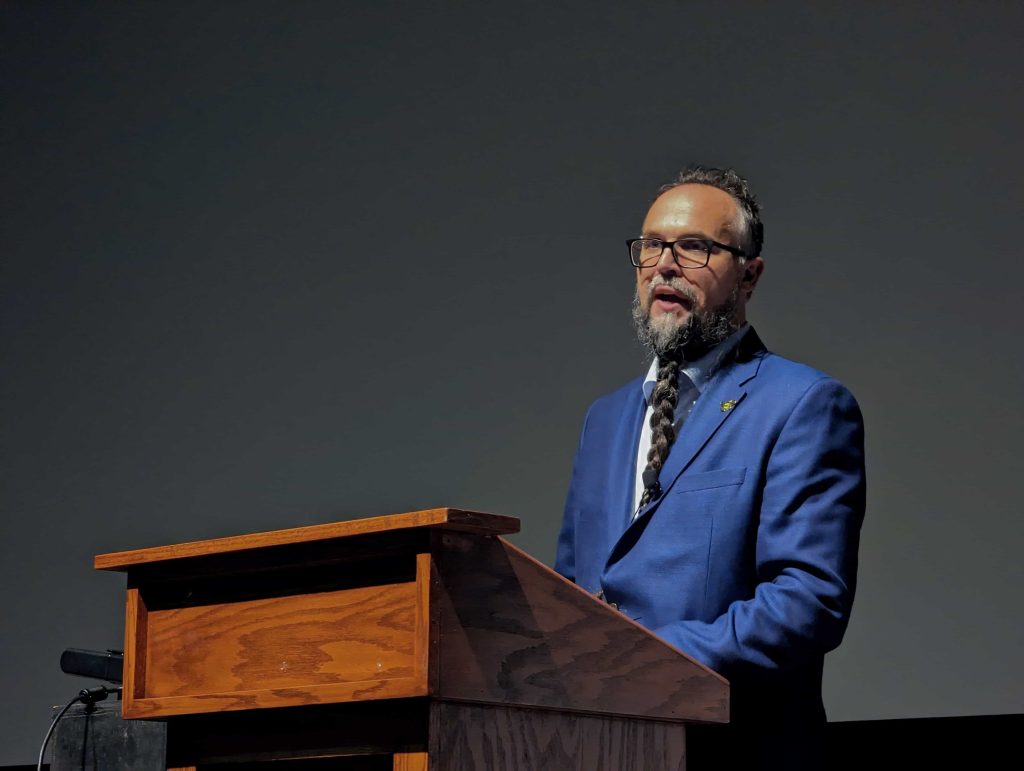 Dr. Whyte suggests that focusing solely on curtailing the use of fossil fuels to address the climate crisis is a half solution at best. Instead, focusing on indigenous consent would lead to a reduction in carbon use. "Many more people are increasingly wanting to halt addiction to fossil fuels," he said. "I've not seen a similar effort to halt the addiction to consent violation."
Dr. Whyte referred to a report by the Rights and Resources Initiative, which revealed that indigenous and local communities currently manage substantial land areas that have the potential to store significant amounts of carbon. Many of these territories lack legal recognition, making them susceptible to environmentally harmful development projects. Consent should play a key role in the future of these resources.
Tribal nations in the United States also face challenges when attempting to access funds for renewable energy projects. These include underdeveloped energy projects and governance standards that do not align with tribal self-governance.
"WHAT IF INSTEAD OF ASKING 'WHAT DO WE DO?' WE INSTEAD ASK, 'WHAT'S THE STATUS OF THE RELATIONSHIPS THAT WILL BE NEEDED TO ADDRESS [CLIMATE CHANGE]?'"
Dr. Whyte ended his talk with a challenge to the audience, asking those present to think of climate change and environmental justice as a coordinated effort between indigenous peoples and national authorities: "What if instead of asking, 'What do we do?' we instead ask, 'What's the status of the relationships that will be needed to address [climate change]?'"
By acknowledging the rights and self-determination of indigenous communities, societies can address the climate crisis more effectively and develop sustainable, equitable solutions for the future. Mitigating climate change is contingent upon respecting Indigenous consent and recognizing that the current crisis is, fundamentally, a consent crisis.