Course Enhancement Grants Empower Faculty for Academic Excellence
Funding from OGA helps faculty to create and grow projects
-By Chuck Givens
June 22, 2023
The Office of Global Affairs is in its second full year offering Course Enhancement Grants to Duke faculty. These grants support faculty projects that provide Duke students with meaningful global experiences and create new opportunities for global learning and engagement. All project proposals should aim to enhance students' global competence by engaging them in critical analysis, knowledge building and perspective-taking.
Music with a Latinx Focus
Sophia Enriquez, Associate Professor of Music, was awarded a Course Enhancement Grant for 2022. Enriquez wanted to expand the global content focus of the course "Latinx Music Cultures" and to deepen Duke's connections with the local Latinx arts community. Enriquez noted that via a poll of her class in the Fall of 2021, 90% of students in the course were of Latinx heritage and were eager to learn in learning about the cultural practices of their heritage as a part of their undergraduate experience at Duke.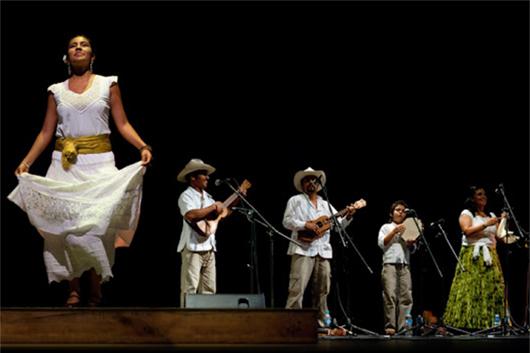 The proposal invited Los Utrera, a musical group from Veracruz, Mexico, to perform in concert and teach an interactive workshop. Enriquez chose the music group because they perform son jarocho, a participatory, community-based folk music tradition that originated in Veracruz in the eighteenth century and now boasts a global community. The course was a success, with Enriquez saying, "This course primarily engaged students of Latinx background, giving them the opportunity to learn more about music of their own heritage and families while also contextualizing those music traditions in their complicated histories and contemporary practices."
International Issues through Experiential Learning
Rachel Myrick, an Assistant Professor in the Department of Political Science, was awarded a Course Enhancement Grant to add an experiential learning component to her undergraduate course, POLSCI 362 (International Security). Myrick replaced the midterm exam with a complex, multi-stakeholder simulation of an international negotiation.
The simulation, called "The Future of Georgia," is about managing security and humanitarian issues in post-Soviet Georgia. Developed by the Negotiation Task Force, a research program based at Harvard that designs immersive simulations for students and practitioners, the simulation allows students to assume the roles of negotiators and mediators.
"The simulation itself went even better than I expected," said Myrick. "The students took it very seriously, in part because it was a graded exercise, and the complexity of the agreement that they reached was very impressive. On the whole, students also seemed to really enjoy the activity, despite it taking a full Saturday!"
"Duke Global's commitment to supporting faculty members through Course Enhancement Grants demonstrates its dedication to academic excellence and innovation in education," said Eve Duffy, Associate Vice Provost for Global Affairs. "By empowering faculty to explore new teaching methodologies, develop cutting-edge curriculum, promote global engagement, and foster dynamic learning environments, these grants ensure that students receive a transformative educational experience."
If you are a Duke faculty member and would like to apply for a Course Enhancement Grant, you can click on the link here: global.duke.edu/course-enhancement-grants